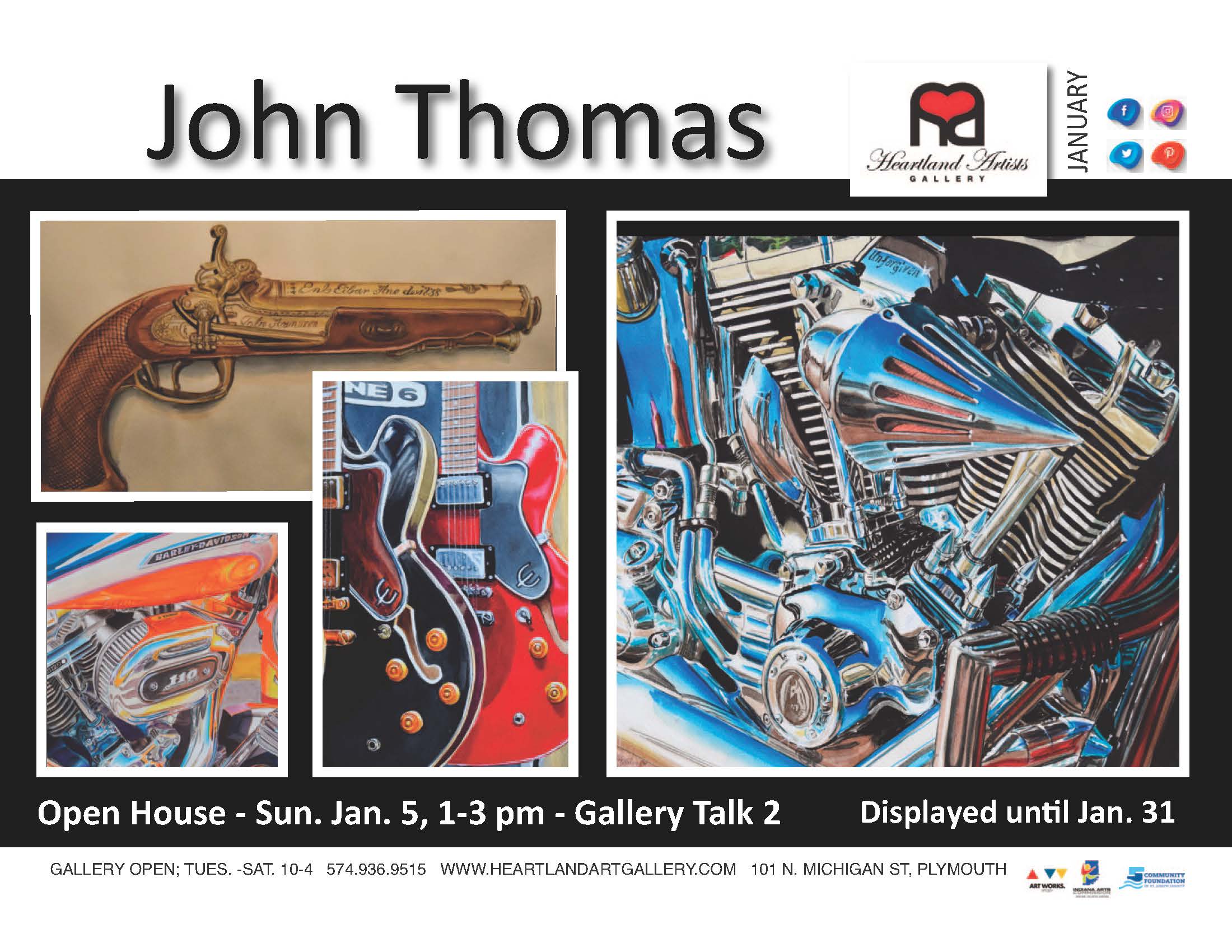 JOHN THOMAS: PHOTO-REALIST AND AIRBRUSH PAINTER
John Thomas taught high school art  in Walkerton for 43 years. His art department at John Glenn High School won 25 achievement awards from the Scholastic Art Awards in New York. Many of his students  have gone on to become professional artists.    
We are very pleased to have John as a new member of Heartland Artists, and especially excited to have him as our Featured Artist of the Month in January.  Although John directs this exhibit of classic motorcycles, guns and guitars to a male audience, everyone will find his attention to detail amazing and will marvel at the way he handles reflections and color.  John offered a class in Beginning Portrait Drawing  last month which was very well attended, and he plans to offer other classes in the coming year. It was gratifying to see how many of his former students  took the class saying they wanted to brush up on the skills he taught them some years ago.
He has recently retired from JGHS, but  continues to paint using a variety of media – oils, watercolor and acrylic.  His favorite subjects are figures and portraits.  Inspired by the smooth look of the  airbrush, he mastered the tool and is known for his large airbrushed paintings on canvas.  The photo-realistic images have won him many awards throughout the years. Included in this list are the Blueberry Festival, Indiana State Fair, Starke County Fine Arts commission, South Bend Michiana Regional Competition, Mid States Show in Evansville and Heartland Artists Regional Show.  His art work is in the permanent collections of the Indianapolis Museum of Art, Evansville Museum Art and Science, and Bristol Meyer Squibb Corporation.
His show runs the month of January beginning on Jan. 2.  All are invited to his opening reception on Sunday, January 5th, from 1 – 3 PM, Art Talk at 2:00.  Come and view the art of our featured artist as well as other Heartland Artist Members.